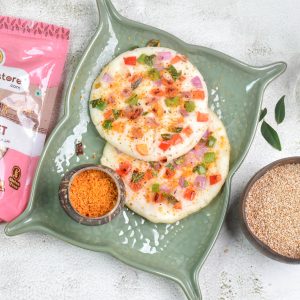 Health in Every Bite: Little Millet Uttapam Delight
Little Millet Uttapam is a healthy and delicious South Indian breakfast dish made usingmillet flour or a combination of millet and rice flours. It's a nutritious andgluten-free alternative to traditional rice-based Product
Equipment
1 Mixing Bowl

1 Tava or Griddle

1 Ladle or Scoop

1 Spatula

1 Measuring Cups and Spoons

1 Knife and cutting board

1 Mixing Spoon

1 Stove or Cooktop

1 Serving Plate

1 Oil Brush or Paper Towel

1 Lid

1 Small Bowl for Oil
Ingredients
1/4

Cup

Urad dal

3/4

Cup

Millets

1

tbsp

Fenugreek seeds

1

Cup

Chopped Vegetables

1/4

Cup

Sliced Onions
Video
Notes
Recipe Method:
* Wash and soak urad dal, poha and methi seeds for 5-6 hours in enough water. In a
separate bowl wash and soak millet in enough water for 5-6 hours.
* Drain the water from urad dal and grind it into a fine paste by adding little water at a time.
Remove into a big bowl and set aside.
*Now in the same jar grind millet by adding little water if required. Add this to the above
ground batter. Mix well. The consistency should be thick like cream.
* Cover with a lid and leave it in a warm place to ferment for 6-8 hours at least or for
overnight.
* When you are ready to make Little Millet grain uttapam, add salt and mix well.
* Heat a non-stick pan/tawa.
* Add chopped vegetables in a bowl. Season with salt.
* When the pan is ready, pour big ladle full of batter on the pan and lightly spread it in a
clock-wise direction to make a thick circle. Sprinkle the vegetables and using a flat ladle;
gently press the toppings into the spread batter.
* Leave oil from the sides and drizzle little oil over the toppings and cook on medium flame
by covering with a lid for 1 minute.
* Flip when the bottom turns nice brown.  Cook for another half minute on medium flame
and flip again. Remove on to a kitchen plate/tissue.
* Ready to serve.